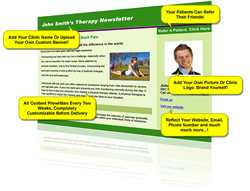 Denville, NJ (PRWEB) March 22, 2012
Physical therapy business that needs a marketing system which can help grow the business are in luck. The Therapy Newsletter website offers done-for-you newsletters which are written and mailed to customers such as doctors, patients and other professionals who can benefit from the services.
The newsletter is designed to help keep the business on the top of customers minds with a monthly mailing. The service sends out emails with newsletter which contains business name and links so that when customers click on any of the links in the newsletter, it will go directly to the website.
The Therapy Newsletter is a 21st century physical therapy marketing solution for today's busy private practice. Each month, Therapy Newsletter automatically delivers two content rich newsletters to patients without having to write a single word. The result can easily mean more new patients for the practice. It will be viewed as an expert in physical therapy field which causes an increase of credibility with doctors and qualified referrals from newsletter readers. No other service comes remotely close in terms of price, benefits and customer service.
Every content rich newsletter is specifically engineered to promote internal referrals. The built-in 'refer a friend' feature in each newsletter dramatically stimulates exponential, viral growth of the brand. Transmit the newsletter to hundreds of doctors with the push of a button using the integrated fax capability, allows flooding to the community with the message and content.
It is automated marketing at its best. When it comes to marketing private practice, the best way to communicate with patients is with the use of email. If the physical therapy website doesnt have a list of emails, don't worry because it will teach two methods to build email list. In fact, patients will happily give emails once implemented any of the proprietary techniques.
Chhodas office can be reached by phone at 201-535-4475. For more information, visit the website at http://www.nitin360.com.
ABOUT NITIN CHHODA

Nitin Chhoda is a licensed physical therapist, a doctor of physical therapy, and a certified strength and conditioning specialist. Hes the author of Total Activation: The New 5 Step Fitness Mantra and Marketing for Physical Therapy Clinics. Hes been featured in numerous industry magazines, major radio and broadcast media, and is the founder of Referral Ignition training systems, Private Practice Summit, the Private Practice Formula and the Private Practice Mastermind group. Chhoda speaks extensively throughout the U.S., Canada and Asia. Hes the creator of the Therapy Newsletter, along with Clinical Contact, a web-based service that boosts patient arrival rates.
Tagged with: Chhoda • Expert • Marketing • Nitin • Physical • Practices • Private • Release • States • System • Therapy
Filed under: eMail Marketing
Like this post? Subscribe to my RSS feed and get loads more!